Luxury Wedding Villa San Gimignano | Volterra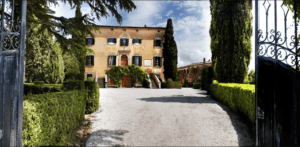 Exclusive Wedding Villa between Volterra and S. Gimignano
The Villa overlooks a magical landscape. It is situated in the middle of the triangle formed by the cities of Pisa, Siena and Florence and is the perfect base for any Tuscan vacation.
Surrounded by a magnificent garden with trees centuries old, the villa extends over an area of 3 hectares between Volterra, the closest town, and San Gimignano. The accommodation is extremely spacious and ideal for large groups.
Within the walls of the villa numerous film scripts were born, and among them films that characterized this glorious period in Italian film making. The big names of Italian and international cinema became children once again upon arriving at the villa, dividing their time here between play and work.
Love and memories bind those of us who work with the villa to this place; there is a certain passion and devotion that keep the villa alive, combining the past and the present in a delicate balance to create a magical atmosphere.
Wedding Reception
The wedding reception is arranged with a catering company and can occur in the magical garden under the majestic tree or in the main front garden with appetizers at the pool. In case of rain, the internal main salon can accommodate between 40-45 guests, so for bigger receptions a marquee rental is recommended.
Wedding Celebration in Volterra
The wedding ceremony can be celebrated in the garden of the villa with a symbolic rite or you can perhaps make use of the stunning wedding hall of Volterra for a civil legally binding wedding. Civil legally binding weddings at the villa are available with a Baptist Pastor, but please ask us specifically for this service, so we can organize it for you.
Additional Information
Accommodation: The villa can accommodate up to 40 people. In high season (June to early Sept) weekly rentals only.
Check In: 

Tuesday

between 5.00 and 8.00 p.m.
Check Out: 

Tuesday

by 10.00 a.m.
Pets: Not allowed
Nearest Village:Volterra 6 km
Distances: Pisa 40 km, Florence 43 km, Volterra 6 km, San Gimignano 11 km, Sienna 31 km, Seaside 34 km
Services: 20 x 10 metre swimming pool, BBQ, Wood fire oven, Projection room, Private chapel, Sauna, Gym, Game Rooms (billiard room, roulette room, indoor table tennis and table games room), Large fully equipped professional kitchen, An additional kitchen at the swimming pool that is fully equipped, Air conditioning on the top floor, Laundry with dryer, WIFI Internet connection (hot spots : pool area, villa front and some rooms of the villa), Satellite TV, Multilingual Concierge service (Italian, English and French)
Private Pool open only from April to October – In low season the pool area will not be available
Nearby extra accommodation (walking distance) 16 extra people in double bedrooms + 8 people in 2 other farmhouses, walking distance away.
Enquire below to be contacted by one of our Wedding Planners in Tuscany and Italy
Please Note: After filling in the form, please make sure you check your inbox for our reply, if you do not see any, please look into your spam folder. It may happen that our reply email are captured by spam filters, if so, please add our address to your white list. Thanks
*Read here our Privacy Policy
Privacy
*By inquiring through this site, you agree to the privacy policy terms. Your registration implies agreement to receive updates, information and more generically, communication from this site administrators and representative and from the team of Efffetti Wedding Planners In Tuscany and Events in Italy in relation to your request. Your information is kept and used according to the Legislative Decree N° 196/2003. Efffetti will not sell, rent or pass your data to any third party without your prior written approval. Under art. 7 of the Legislative Decree N° 196/2003 it is your right, among other things, to know your how your personal data treated is by us, in addition to requesting its integration, correction or deletion.
An Italian wedding coordinator will reply to you requesting a non-binding call, which will help you and us focus on the exact requirements for your wedding.