Wedding on the Beach in Tuscany
A Wedding on the Beach in Tuscany? Why not!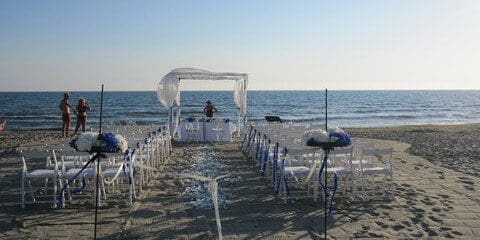 Beach weddings are extremely popular all over the world, although in Italy though you can only perform legal weddings in town halls or at licensed locations. Some of these locations are Castles overlooking the sea or hotels with amazing terraces above the beach (see our gallery below). There are also some special beaches in Tuscany where the Mayor does allow weddings. Some are near Pisa and Lucca and some near Grosseto.
Alternatively, a popular option is a symbolic ceremony and wedding reception on a private beach. Due to fact that beaches are used by regular patrons of the beach, a beach wedding and reception from mid-June and throughout August is not possible unless it occurs later in the evening. This does not mean you cannot have your wedding on a beach, it just means you can schedule your symbolic wedding after 7pm on the beach with the added bonus of a romantic sunset. In Tuscany, the sun goes down on the sea and in summer this happens between 8 pm and 9 pm depending on the month. The light at sunset will create a magical atmosphere for your late afternoon wedding. After the ceremony you can have a private area for the reception, either under special tents on the beach or under the terrace at the pool of this amazing venue, which is set at one of the most renowned beaches in Versilia.
A terrace wedding on the Amalfi Coast might also be considered as an alternative to a Wedding in Tuscany at the Beach.
Please Note: After filling in the form, please make sure you check your inbox for our reply, if you do not see any, please look into your spam folder. It may happen that our reply email are captured by spam filters, if so, please add our address to your white list. Thanks
*Read here our Privacy Policy
Privacy
*By inquiring through this site, you agree to the privacy policy terms. Your registration implies agreement to receive updates, information and more generically, communication from this site administrators and representative and from the team of Efffetti Wedding Planners In Tuscany and Events in Italy in relation to your request. Your information is kept and used according to the Legislative Decree N° 196/2003. Efffetti will not sell, rent or pass your data to any third party without your prior written approval. Under art. 7 of the Legislative Decree N° 196/2003 it is your right, among other things, to know your how your personal data treated is by us, in addition to requesting its integration, correction or deletion.
An Italian wedding coordinator will reply to you requesting a non-binding call, which will help you and us focus on the exact requirements for your wedding.
Wedding on the Beach in Tuscany, Amalfi Coast Marriage, Italian Beach Weds