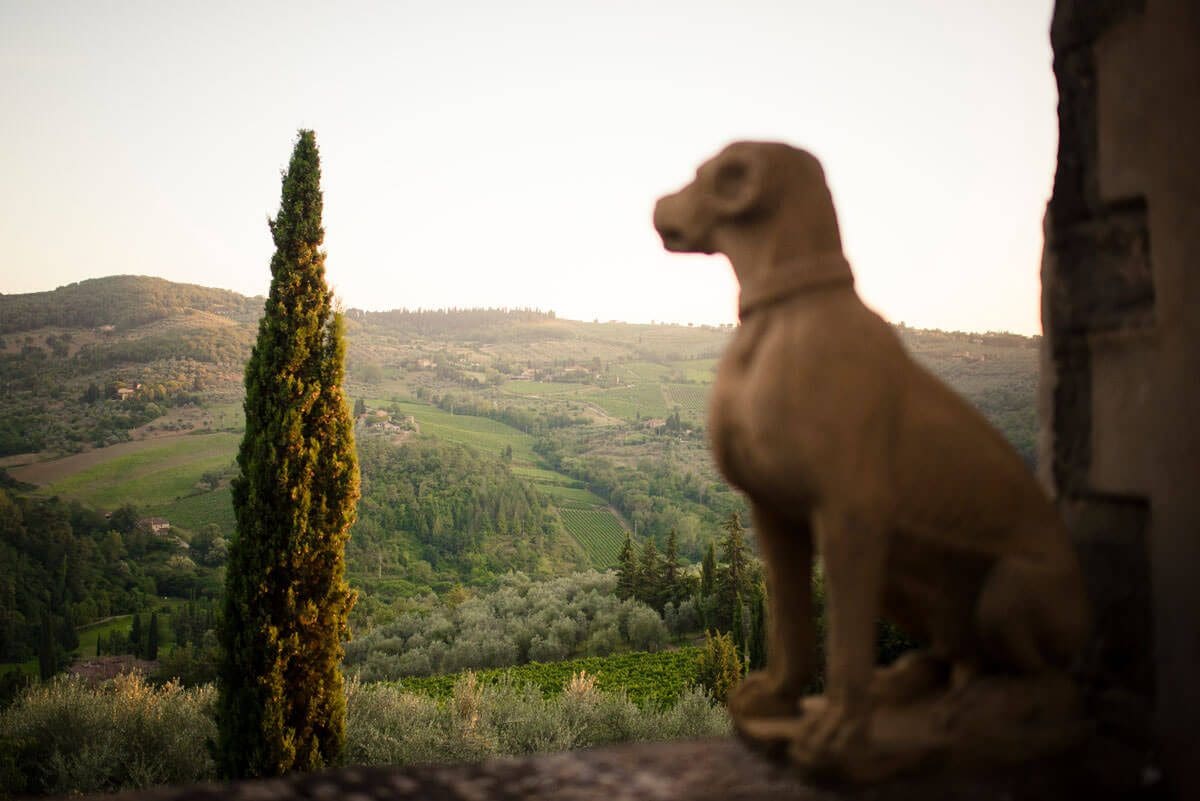 Tuscan Wedding with a Landscape
A wedding in Chianti, the famous Wine region, is maybe one of the most fairy tale marriage settings in Tuscany. Chianti-shire is renowned for its wine and also represents ideal Tuscany with its rolling hills covered with vineyards and olive trees. Getting married in Chianti means adding your wedding pictures to the images your memory recalls from Tuscany.
The Chianti region is quite broad, and it includes the areas around Siena, south of Florence, south-east Pisa and Val d'Orcia which extends from the hills south of Siena to Monte Amiata. Your marriage in Chianti can span many villages which recall a medieval atmosphere such as San Gimignano, Certaldo, Montepulciano, Tavarnelle Val Di Pesa, San Casciano, Greve in Chianti and their castles and villas. Or Pienza (rebuilt as an "ideal town" in the 15th century under the patronage of Pope Pius II), Radicofani (home to the notorious brigand-hero Ghino di Tacco) and Montalcino (the Brunello di Montalcino is counted among the most prestigious of Italian wines).
The famous Mona Lisa (La Gioconda or La Joconde) painted by Leonardo Da Vinci has Vignamaggio (one of the wedding villas we work with) as a background. Even Modern Photographers love this area in their subjects.
Enquire below to be contacted by one of our Wedding Planners in Tuscany and Italy
Please Note: After filling in the form, please make sure you check your inbox for our reply, if you do not see any, please look into your spam folder. It may happen that our reply email are captured by spam filters, if so, please add our address to your white list. Thanks
*Read here our Privacy Policy
Privacy
*By inquiring through this site, you agree to the privacy policy terms. Your registration implies agreement to receive updates, information and more generically, communication from this site administrators and representative and from the team of Efffetti Wedding Planners In Tuscany and Events in Italy in relation to your request. Your information is kept and used according to the Legislative Decree N° 196/2003. Efffetti will not sell, rent or pass your data to any third party without your prior written approval. Under art. 7 of the Legislative Decree N° 196/2003 it is your right, among other things, to know your how your personal data treated is by us, in addition to requesting its integration, correction or deletion.
An Italian wedding coordinator will reply to you requesting a non-binding call, which will help you and us focus on the exact requirements for your wedding.
Wedding in Chianti, Tuscan wedding with landscape and Wine. Efffetti Wedding Planners in Chianti