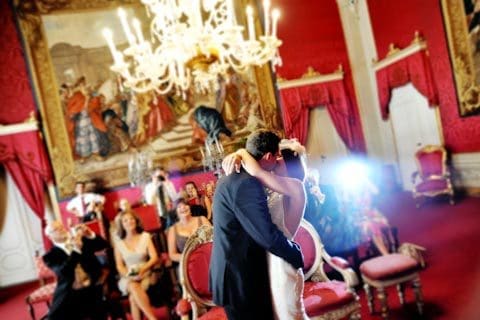 Getting married in Florence
is a unique experience in one's life. Firenze is one of the most renowned cities in Italy and a perfect place for an elopement in Tuscany. The city opens its arms to couples in love and many visitors are surprised at the austerity of the old city of Florence, but the real charm is the scale of this medieval city, with its Coffee Bars, piazzas, monuments and streets. One of the best ways of visiting the city is with a walking tour of Florence. You will be walking around the famous Florentine Museums, Galleries and Churches, repositories of sculpted and painted masterpieces which span thousands of years.
Within 20 minutes of the historic centre, the city gives way to the rolling hills of Chianti, dotted with small towns and vineyards. The wedding hall of Florence is one of the most beautiful halls in Tuscany. It is located inside Palazzo Vecchio in Piazza della Signoria and is called "Sala Rossa" (Red Room) as it is completely furnished with this royal colour and gold.
Florence is a busy city almost every month of the year, but mostly in Spring, Summer and Autumn. In case you are staying here for one day only, we suggest you choose a hotel near the centre and walk in. Driving to and in Florence is not the best option. The centre is a completely car free area and fines are very high. On top of that, Florence does not have cheap parking facilities, most of the time paying for a taxi is cheaper than paying for a parking spot for few hours. To enjoy the beauty of Florence during your stay for your wedding, we strongly suggest that you consider sleeping there for not less than 2 nights and book one of the fantastic guided tours of the city which will let you bypass queueing and help you to enjoy the city at its best.
While in Tuscany for your wedding we suggest that you consider some extra activities to do with your guests, such as Tuscan Cooking Classes, Local Wine Tasting Tours or walking tours of the main cities such as Siena, Lucca San Gimignano or Volterra.
Enquire below to be contacted by one of our Wedding Planners in Tuscany and Italy
Please Note: After filling in the form, please make sure you check your inbox for our reply, if you do not see any, please look into your spam folder. It may happen that our reply email are captured by spam filters, if so, please add our address to your white list. Thanks
*Read here our Privacy Policy
Privacy
*By inquiring through this site, you agree to the privacy policy terms. Your registration implies agreement to receive updates, information and more generically, communication from this site administrators and representative and from the team of Efffetti Wedding Planners In Tuscany and Events in Italy in relation to your request. Your information is kept and used according to the Legislative Decree N° 196/2003. Efffetti will not sell, rent or pass your data to any third party without your prior written approval. Under art. 7 of the Legislative Decree N° 196/2003 it is your right, among other things, to know your how your personal data treated is by us, in addition to requesting its integration, correction or deletion.
An Italian wedding coordinator will reply to you requesting a non-binding call, which will help you and us focus on the exact requirements for your wedding.
Wedding in Florence, get married in Florence Efffetti Weddings