Celebrant for Symbolic Wedding in Tuscany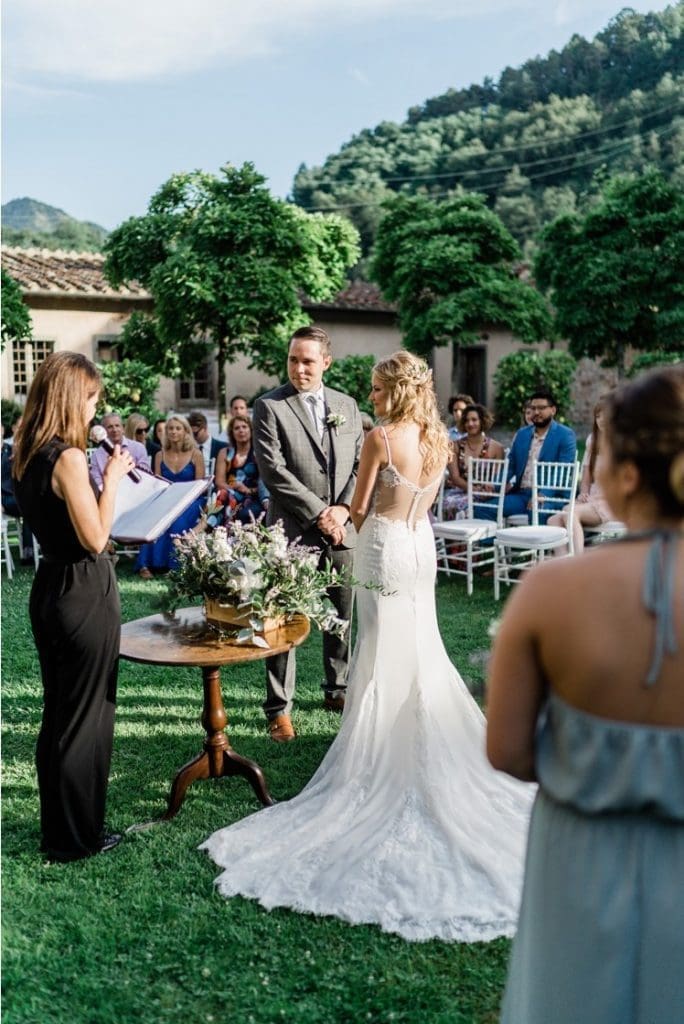 Symbolic Wedding Celebration Service
For you, getting married in Italy might mean a symbolic celebration, offering you and your guests a fabulous experience in the land of romance and love. Symbolic weddings are performed between any type of couples, same-sex gay weddings and heterosexual couples.
As discussed in the wedding documentation page, the celebration of a legally binding marriage in Italy has to follow a few specific rules and laws.
A symbolic wedding celebration will be perfect for you if you have been dreaming of your wedding in Tuscany and have envisioned open air locations, beautiful flowers, or perhaps at the sea, or in a secluded stunning park full of decorations or even alongside a swimming pool. Perhaps you would simply like to have a very personalized celebration of your marriage in Italy.
One of the best solutions to any of the options above is to hire a celebrant and define with him/her the exact ceremony you want to be performed and where to officiate it.
Your wedding planner in Tuscany will then manage the decisions or any other requirements you may have. The possibility to celebrate a symbolic wedding in the impressive Italian scenes of your dreams is possible! The ceremony would take place before or after it is performed at the town hall into a legally binding marriage which will be valid in any country…
Efffetti can help you find the proper interfaith officiant anywhere in Italy or, if you do not need any religious tone to your wedding, Efffetti can offer you an English, Portuguese, French, Spanish, German or Russian speaking civil celebrant who will customize the celebration just as you would like it, and they will release a personalized wedding certificate (without legal validity) for your wedding in Tuscany.
Enquire below to be contacted by one of our Wedding celebrants in Italy
Please Note: After filling in the form, please make sure you check your inbox for our reply, if you do not see any, please look into your spam folder. It may happen that our reply email are captured by spam filters, if so, please add our address to your white list. Thanks
*Read here our Privacy Policy
Privacy
*By inquiring through this site, you agree to the privacy policy terms. Your registration implies agreement to receive updates, information and more generically, communication from this site administrators and representative and from the team of Efffetti Wedding Planners In Tuscany and Events in Italy in relation to your request. Your information is kept and used according to the Legislative Decree N° 196/2003. Efffetti will not sell, rent or pass your data to any third party without your prior written approval. Under art. 7 of the Legislative Decree N° 196/2003 it is your right, among other things, to know your how your personal data treated is by us, in addition to requesting its integration, correction or deletion.
An Italian wedding coordinator will reply to you requesting a non-binding call, which will help you and us focus on the exact requirements for your wedding.
Celebrant for Symbolic wedding in Tuscany | Symbolic officiant to get married in Italy