Wedding in Venice, Your Dream in the Lagoon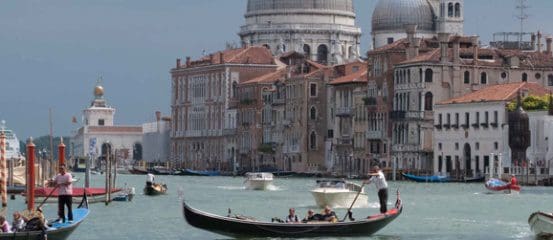 Wedding in Venice? The ideal Italian venue for a classy wedding in Italy. Venice was referred to as "La Serenissima", the most beautiful city, a place stolen to the lagoon. The city which has been replicated everywhere in the world, Venice is the place everyone would dream to visit at least once in their life. And you can plan your wedding in Venice.
Some refers to Venice as the most romantic city in the world (fighting against those who claim Florence to be the most Romantic one … we love them both!!!). Venice extends luxuriously among small islands in the lagoon. Recollecting feelings of magic and tranquillity, this grand city inspires romance and breathes like a living creature made of fluid and majestic palaces.
Venetian weddings are magical and memorable. The most amazing locale for celebrating? The Gondola… As you wind your way through canals you can almost hear the echoes of Vivaldi playing just for you!
Getting married in Venice is a dream that can become reality! Civil weddings are celebrated in one of the historical Palazzo overlooking the Canal Grande (the biggest and most renowned canal of the city). Weddings are celebrated almost every day with different rates depending on your nationality, day, time and room selected for the wedding.
You can choose to hold your wedding either at Palazzo Cavalli or Ca' Farsetti in one of the two dedicated rooms: Sala Stucchi or Sala del Consiglio. To get married in Venice you just need to be in Venice on the day of the wedding, without prior meetings with the town hall (provided you have your nulla osta to the wedding as requested based on your nationality).
Symbolic weddings can take place in one of the many Hotel Terraces overlooking the canal.
To receive detailed information about weddings in Venice, please enquire below explicitly stating your request is about a Wedding in Venice
Enquire below to be contacted by one of our Wedding Planners in Tuscany and Italy
Please Note: After filling in the form, please make sure you check your inbox for our reply, if you do not see any, please look into your spam folder. It may happen that our reply email are captured by spam filters, if so, please add our address to your white list. Thanks
*Read here our Privacy Policy
Privacy
*By inquiring through this site, you agree to the privacy policy terms. Your registration implies agreement to receive updates, information and more generically, communication from this site administrators and representative and from the team of Efffetti Wedding Planners In Tuscany and Events in Italy in relation to your request. Your information is kept and used according to the Legislative Decree N° 196/2003. Efffetti will not sell, rent or pass your data to any third party without your prior written approval. Under art. 7 of the Legislative Decree N° 196/2003 it is your right, among other things, to know your how your personal data treated is by us, in addition to requesting its integration, correction or deletion.
An Italian wedding coordinator will reply to you requesting a non-binding call, which will help you and us focus on the exact requirements for your wedding.
Wedding in Venice, Getting married in the Venetian Lagoon.