Wedding Music and Entertainment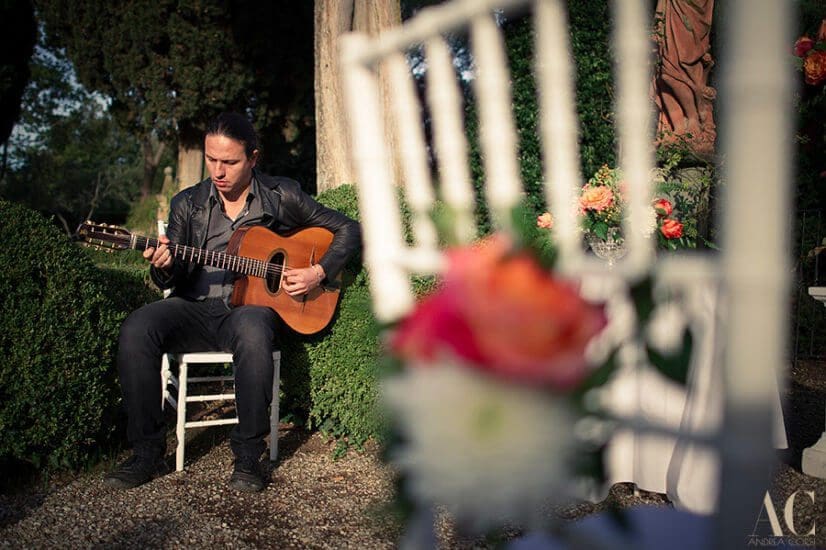 Music at your wedding and SIAE
Music and entertainment are key to the success of your wedding in Italy. Do not think you have all your wedding requirements covered unless you have decided on your Wedding Music. Music will be forever the soundtrack of your wedding day in Italy and you should consider selecting which background music to play while saying "I do", and which music will accompany you when you have just been married.
You can choose between live music with a band or a DJ but remember that whichever you choose will play a huge part in building the personality and tone of your wedding day. Remember to select a nice first dance which will kick off your social life as husband and wife and ignite the dancing of your guests… A little bit of pressure? No worries, your guests are your best friends and loving family… your first dance cannot go wrong, even if you miss all the steps, it will be YOUR VERY SPECIAL MOMENT.
Efffetti wedding planners will arrange all the necessary requirements for the music at your wedding. Remember that in Italy to be able to play music, even at private parties, you have to pay a copyright tax called SIAE. The fee amount depends on the type of music (live or pre-recorded) and it starts from 250€ and goes up to 450€. Also in many venues, music cannot be played outdoors any later than midnight so if you plan to have a long night of dancing, our wedding planners will suggest venues which allow you to have music until late at night or that have indoor facilities.
Music is a matter of personal taste, so our options will let you choose absolutely anything music you want, from hard-rock to opera or from a string quartet to a jazz band.
A wedding has very diverse moments: the sanctity of the ceremony, the conviviality of the cocktail reception and the joyfulness of the dancing, all of which require an appropriate background music. From a 12-piece jazz band, to a string quartet, from a DJ to a solo soprano singer, you will always have the right music at the right moment for your wedding in Tuscany.
Enquire below to be contacted by one of our Wedding Planners in Tuscany and Italy
Please Note: After filling in the form, please make sure you check your inbox for our reply, if you do not see any, please look into your spam folder. It may happen that our reply email are captured by spam filters, if so, please add our address to your white list. Thanks
*Read here our Privacy Policy
Privacy
*By inquiring through this site, you agree to the privacy policy terms. Your registration implies agreement to receive updates, information and more generically, communication from this site administrators and representative and from the team of Efffetti Wedding Planners In Tuscany and Events in Italy in relation to your request. Your information is kept and used according to the Legislative Decree N° 196/2003. Efffetti will not sell, rent or pass your data to any third party without your prior written approval. Under art. 7 of the Legislative Decree N° 196/2003 it is your right, among other things, to know your how your personal data treated is by us, in addition to requesting its integration, correction or deletion.
An Italian wedding coordinator will reply to you requesting a non-binding call, which will help you and us focus on the exact requirements for your wedding.
Wedding Music and Entertainment for your wedding in Tuscany