New Rates for The Red Hall – Wedding Room in Florence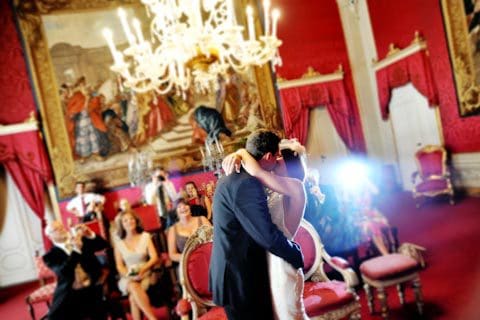 At the end of November 2014, we received an update about the fee to get married at the Town Hall of Florence. This was an update you would never want to receive. The board of the city of Florence decided to increase the rate for non-Italians to get married… by 3,3 times the rate for weddings at the famous Red Hall, Red Room, Sala Rossa or whichever name you know it by.
Luckily, back then, we had no weddings confirmed in Florence for 2015…
*the link will take you to the official website of the Town Hall of Florence
On top of this, until recently as a kind of exception, we could still grant a wedding on Saturday mornings to our non-Italian couples, but unfortunately the update created an additional stricter rule to days available, with the result that unless one of the couple is residing in Florence, or is registered at AIRE with their last city of residence in Italy being Florence, none will be allowed to get married on a Saturday in Florence, regardless of the rate. Thus a non-Italian who wants to get married at the Red Room-Hall-Sala Rossa, can only get married on Wednesday or Thursday mornings. Other rooms/days may be available at even higher rates and these calendars are usually only published only 6 months from the date, resulting with the impossibility to choose the date of the wedding itself before 6 months.
I thought it was important to create a clear post about the matter to let our readers know and tell them that there are amazing town halls in Tuscany with frescoed rooms, in medieval palaces, without day/time restrictions and whose rates range between 250 and 600€ for non-Italians.
Please feel free to contact us to find out more about options and possibilities, we will be happy to offer you a 30 minute skype consultation, free of charge, to give you info about your options at an equally amazing and beautiful alternative town hall (pictures below) for a legally binding wedding in Tuscany.
If you only need guidance and a check for legal paperwork, for just 50€ you can buy a 30-minute call with our experts.
Enquire below to be contacted by one of our Wedding Planners in Tuscany and Italy
Please Note: After filling in the form, please make sure you check your inbox for our reply, if you do not see any, please look into your spam folder. It may happen that our reply email are captured by spam filters, if so, please add our address to your white list. Thanks
Privacy
*By inquiring through this site, you agree to the privacy policy terms. Your registration implies agreement to receive updates, information and more generically, communication from this site administrators and representative and from the team of Efffetti Wedding Planners In Tuscany and Events in Italy in relation to your request. Your information is kept and used according to the Legislative Decree N° 196/2003. Efffetti will not sell, rent or pass your data to any third party without your prior written approval. Under art. 7 of the Legislative Decree N° 196/2003 it is your right, among other things, to know your how your personal data treated is by us, in addition to requesting its integration, correction or deletion.
An Italian wedding coordinator will reply to you requesting a non-binding call, which will help you and us focus on the exact requirements for your wedding.